OUR MISSION:
Come hear from women in Atlanta who have launched their own businesses, coached other bosses, sold some products, and designed some amazing stuff...all while balancing motherhood, marriage, single life, social life, self care, and fostering their creative courage. The Be Free Workshop will help provide you guidance and tools to help you run your business like the boss we all know you can be.
This is a place where women of all levels in the "lady boss game" can come together for community. Whether you have been a lady boss for over 30 years or just have an idea you're thinking of launching, this is the place it all comes together. We support, challenge and encourage one another to become the lady bosses we were destined to be.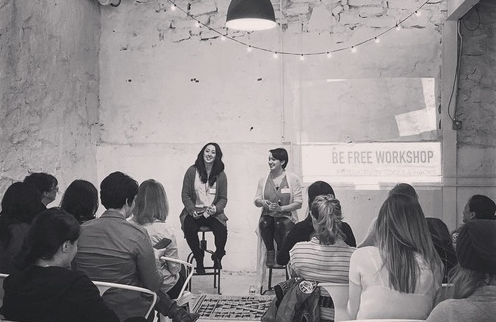 The Be Free Workshop was founded by Angela Elliott-Wingard & Mindy Fletcher. Angela is a solo-preneur who's been balancing a corporate gig and a freelance design and photography business for over 8 years. Angela has been wanting to create an Atlanta community of femme fatale business bad-assery for a few years now. And once the fear of regret surpassed the fear of failure, she began plotting.
Angela immediately thought of Foster Atlanta for the location, as Foster's values and Be Free's mission go together like OJ and Champagne. It was there Angela met Mindy Fletcher, who had also been plotting her own lady boss meet up and the two decided to join forces and kick off of what they hope to be one of many future workshops at Foster Atlanta.