April Be Free Workshop Recap
Mindy and I just hosted our 2nd Be Free Workshop on Saturday, and it was AH-mazing. Our kickoff back in February seriously couldn't have gone any better, we had about 40+ ladies show up that work in all different fields - some freelance, some on the side hustlers, some corporate - that just wanted to meet some like minded women in the area and discuss all things work/life balance. I mean, I literally left feeling like this:
So for our 2nd workshop, we wanted to get a little more granular on topics and discussed all things selling and scaling your business with two awesome boss ladies in Atlanta. Our dear friends behind Deep South Social, founders Jessica Berinato (of Breathless Paper Co.) and Ashley Schoenith (of heirloomed + IceMilk Aprons). Given that the topic was much more focused, the audience was much smaller than our kick off, which we actually wanted. We got the exact turnout we aimed for, which is great. The reason for this was we wanted to test out a true Q+A style workshop. Instead of just going up and discussing a topic with just the panel chiming in and questions at the end, we had the whole thing be a discussion. And I'm really happy with the results. The group was small enough (about 22 ladies) to manage the session and let everyone get their answers in. We posted some topics on the board that we'd talk about, but having the audience lead the conversation actually worked out really well. The conversation flowed very naturally and I feel like all the Be Free ladies feel a bit more connected with each other in that kind of environment. You know when someone asks a question you were dying to ask or know, it sparks a natural dialog.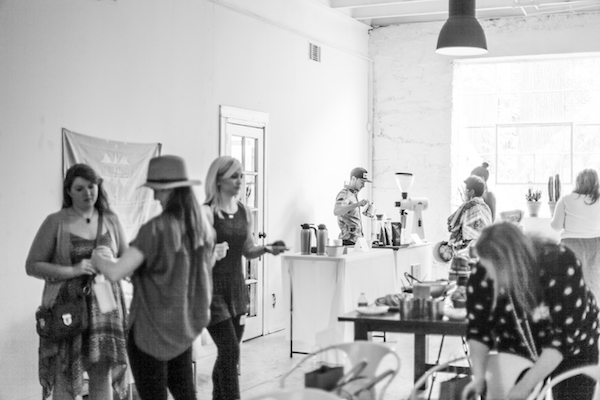 So different format, but same feel good vibes when we left. We're so excited about our next one in June (we're keeping about an every other month schedule) and if you want to go ahead and buy tickets, you can do so below!
We're still finalizing our topics and speakers, but if you want to read more about the event and get the details, its all listed here.
So big thank you to everyone who came out and supported us, who's supported me with this little idea I've had brewing for years deep inside me, it means more than you'll ever know!
And a huge shoutout to our sponsors, for the swag, the food, and the amazing drinks!
Angela Wingard